W2M Sexy Line Latex Waist Trainer
High compression latex-Molds, thermic action abdomen, control waist.

How to use:wear latex on the outside, cotton inside

Care instructions: hand wash and air dry with mild soap
DO NOT MACHINE WASH, DO NOT MACHINE DRY
W2M Sexy Line Latex Waist Trainer
Ideal for exercising, walks, and work.

Internal latex for maximum perspiration.
Lined with a 100% blue cotton Lycra
Please Specify Your Size Upon Check Out.

All Sales are Final. No Returns or Exchanges

How to determine your perfect fit?

Most women have a general idea of their size, but to ensure a perfect fit, it's best to get an accurate measurement. Taking your own measurements is very easy: all you'll need is a cloth or vinyl body-measuring tape (not metal). If neither, are accessible, simply download & print a measuring tape. To find the size that should best suit your body follow the instructions below. USE, the size chart to determine the correct size, for any of our waist shaping products, you will have to convert your US shirt size or measure your waist (right above your navel ) to assure a snug fit. We suggest you should order a size up for a comfortable fit.
How to Measure?
Make sure that the tape is leveled and is not too loose or too high. Also, make sure to measure yourself while wearing your undergarments, not over your clothes.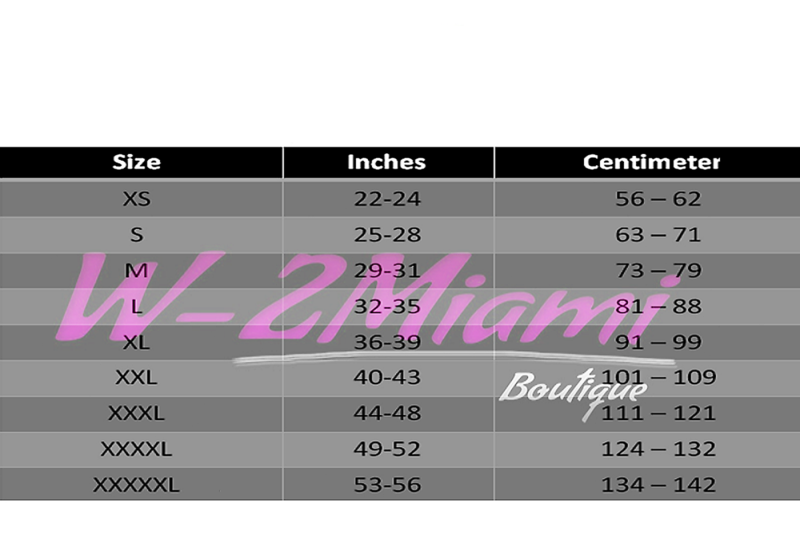 SLIMMER waist in an INSTANT with your W-2 Miami shapewear
You can lose up to 4 inches in your mid-section in less than 30 days
Show Off your figure with your #w2Miamiwaistcincher !!
Use cinchers as SPORTING ACTIVITY or undergarment shapewear.
INSTRUCTIONS FOR WAIST CINCHERS
Start from the bottom hook of the cincher and continue upwards, one hook at a time.
This waist cincher may be worn 2 to 6 hours a day or longer according to your comfort level.
TIP: It is advisable to start off wearing our latex waist cinchers on top of a tank-top or light workout gear.
We Sincerely, appreciate you shopping with us.
#W2MIAMIBOUTIQUE

@shop_miami_boutique_online